Tortugas D.R.I.M.A.X , D.R.I.M.A.X Sea Turtle en EUA , en España Tortuga del Mar Mutante con Pico . es un animal marino que tiene una apariencia de un mutante.
Historia
Edit
Cuando encontraron un esqueleto de una tortuga marina gigante en el Museo de Peabody de Historia Natural, Universidad de Yale pero cuando la gema hizo a mutar varias tortugas marinas y descubrió algo científico.
Así como unas especies de animales acuáticos , ese animal marino D.R.I.M.A.X es Omnivoro se alimenta de carne y algas esta especie en la cultura en la bahía y en los mares buscando descubrimientos del animal
Alimentación
Edit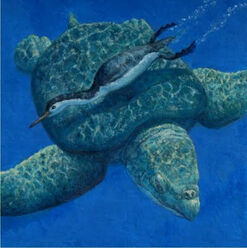 Ese animal se alimenta de crustáceos y algas por que come carne y vegetales.
en una reproducción de la especie se alimenta de los animales marinos y algas que desarrolla y reproduce de 106.000 huevos.
ADN de Archelon con ADN Acuadrilo + ADN de Loro con ADN de Tortuga del Caribe
246 + x r789 57895848 z863 + x 56 por Acurys
45+68x78 por Alvatrax
68990+467 por Sucaruss
Ad blocker interference detected!
Wikia is a free-to-use site that makes money from advertising. We have a modified experience for viewers using ad blockers

Wikia is not accessible if you've made further modifications. Remove the custom ad blocker rule(s) and the page will load as expected.