Longaniza es un perro mutante recién fallecido a su estado original creado por El Samurai de la Rodilla de Bronce.
Su vida y su muerte
Edit
nació en 2004 en 07 de febrero , criado por Doña Antonieta Doncella lo dejo a el porque ella se fue a campamento con sus nietos , cuando vino el Samurai hizo mutar al pobre perrito y se convierte el tierno cachorrito en un perro rabioso.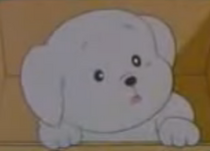 antes de la mutación
cuando Gunther-Purk lo detuvo vuelve a su estado original y murió de una infección de la mutación infantil.
Su forma
Edit
Longaniza era un perrito con su cara parecida de el erizo de la buena suerte
y su tamaño de su mutación era con colmillos y su piel de su apariencia mutante es parecido del tejón.
Ad blocker interference detected!
Wikia is a free-to-use site that makes money from advertising. We have a modified experience for viewers using ad blockers

Wikia is not accessible if you've made further modifications. Remove the custom ad blocker rule(s) and the page will load as expected.