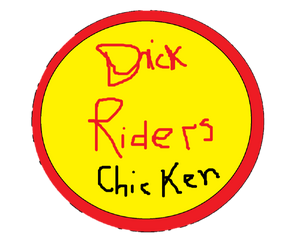 Dick Riders Chicken , en español Pollos Jinetes Rancheros es un restaurante ficticio que aparece en el universo de Gunther-Purk está combinado por Kentucky Fied Chicken y McDonald´s.
Piernas de Pollo Crujiente.- este platillo está hecho con ingredientes y su sabor.
Hamburguesa con queso y tocino con Salsa de Gallo.- esta hamburguesa tiene sabor de la combinación con la carne de pollo y de la vaca lo que llamamos Dupli-carne.
Comida Ranchera.- este tipo de Cajita Feliz contiene: hamburguesa, pollo, gaseosa, jugo de tofu con fresa y su postre unos churros gallineros dulces.
Baguette de pollo.- este platillo tiene algo de gournet con tomate lechuga es rico y viviano.
Podrían hacerlo en casa
Edit
si quieres hacer esta receta y especialmente la Gallinita Feliz en tu casa en la realidad.
Ad blocker interference detected!
Wikia is a free-to-use site that makes money from advertising. We have a modified experience for viewers using ad blockers

Wikia is not accessible if you've made further modifications. Remove the custom ad blocker rule(s) and the page will load as expected.