El
A4 PX
es un mutador muy peligroso para la ingeniería en los super secretos del laboratorio de A4 , situada en la América del Norte del círculo . Es capaz de convertir a cualquier ser viviente en el mundo en un monstruo mutante extraterrestre que es tan peligroso que puede destruir todo a su paso . Los efectos del suero pueden ser contrarrestados por Antídoto de A4 PX , un antídoto para armas láser , fue inventado para matar y cura el efecto.
cuando la gema nuclear llega a la Tierra y produce un liquido y cuando traen de la cascara de cristal. hacen que llene a los frascos para servir y convertir seres vivos en criaturas.
la imagen de la serpiente mutante para la escena de la película nueva.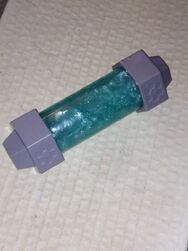 la imagen del mutageno en frasco.
Ad blocker interference detected!
Wikia is a free-to-use site that makes money from advertising. We have a modified experience for viewers using ad blockers

Wikia is not accessible if you've made further modifications. Remove the custom ad blocker rule(s) and the page will load as expected.